myBooks Is The Best Alternative For Vyapar App
Reasons to choose mybooks as an alternative to Vyapar
Powerful cloud accounting & alternative to Vyapar app to access iOS
Free web version for small businesses & access the app worldwide
Vyapar alternative app in your hand, to make business efficient
Restricted by Vyapar for iOS availability? Your business deserves better alternative software. Check out myBooks: A cloud-based accounting app available for PC, Android, and iOS.
Comparison between Vyapar & mybooks
Why choose myBooks as your Vyapar alternative
Online accounting software
Holds all-sufficient reports
Hold purchase price history
Hussle free desktop features
*This comparison is based on our research about the competitor and may not be exactly accurate, features of competitors may have changed.
Try myBooks Freemium for 30 days
Ready to unlock full potential by transforming your business for the digital era?

Learn how myBooks mobile accounting apps can simplify your accounting needs, without a learning curve
myBooks accounting software helps you to buy your accounting software at a very low cost, than all other accounting software in the market.
We don't hurt your pocket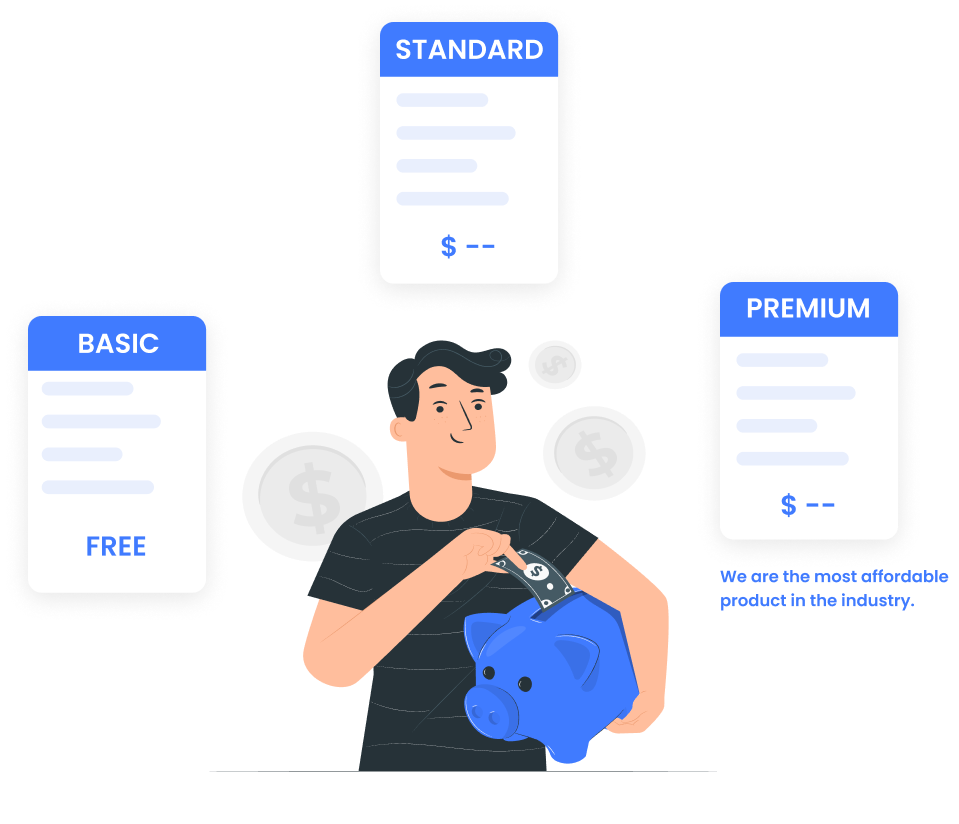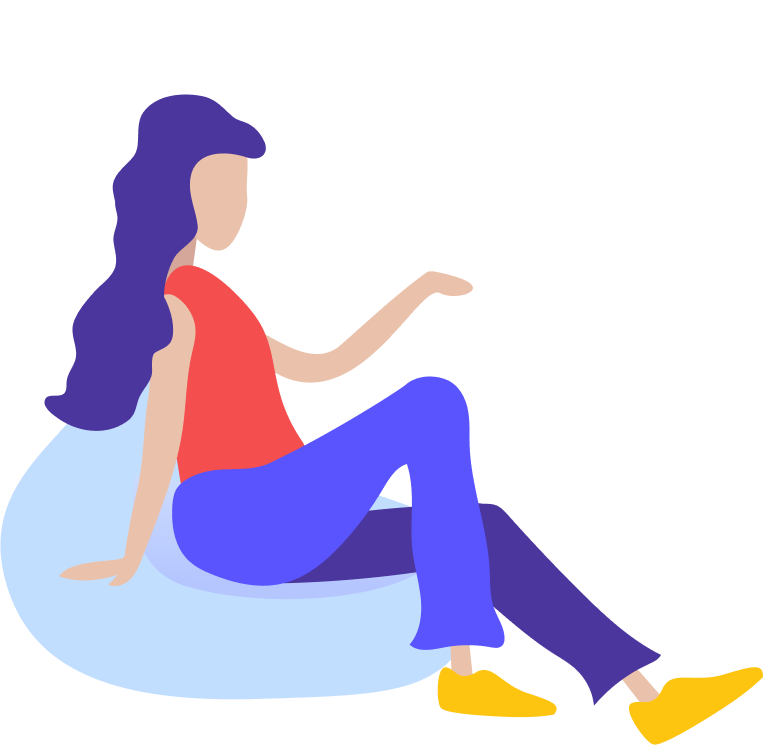 myBooks accounting software saves your time! Just connect your bank account and import transactions automatically inside our myBooks cloud accounting software. Import your transaction by linking your bank account.
You don't need any computer science degree to use our accounting software. Our cloud accounting software is configured and set up in a simple way, so you can get to the real work. Get our cloud accounting software and become an expert in a minute.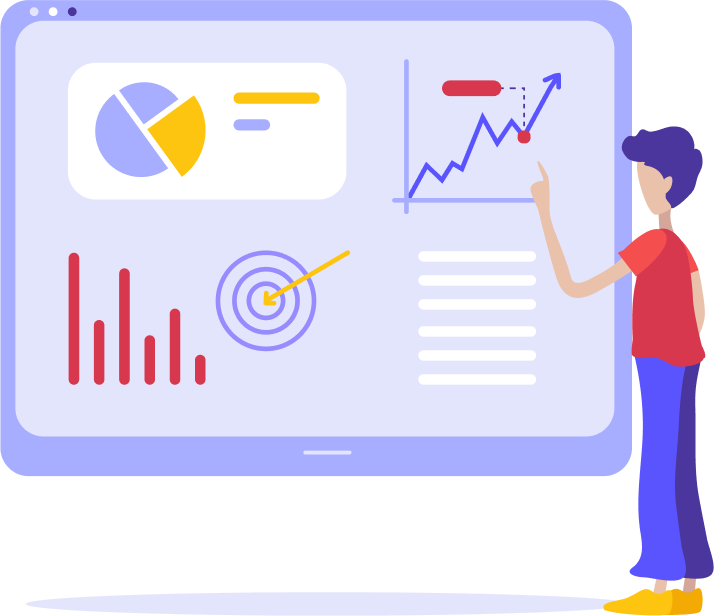 myBooks accounting software has professionally trained support engineers to assist our customer's queries. Our cloud accounting team provides support to all software-related doubts and queries in myBooks.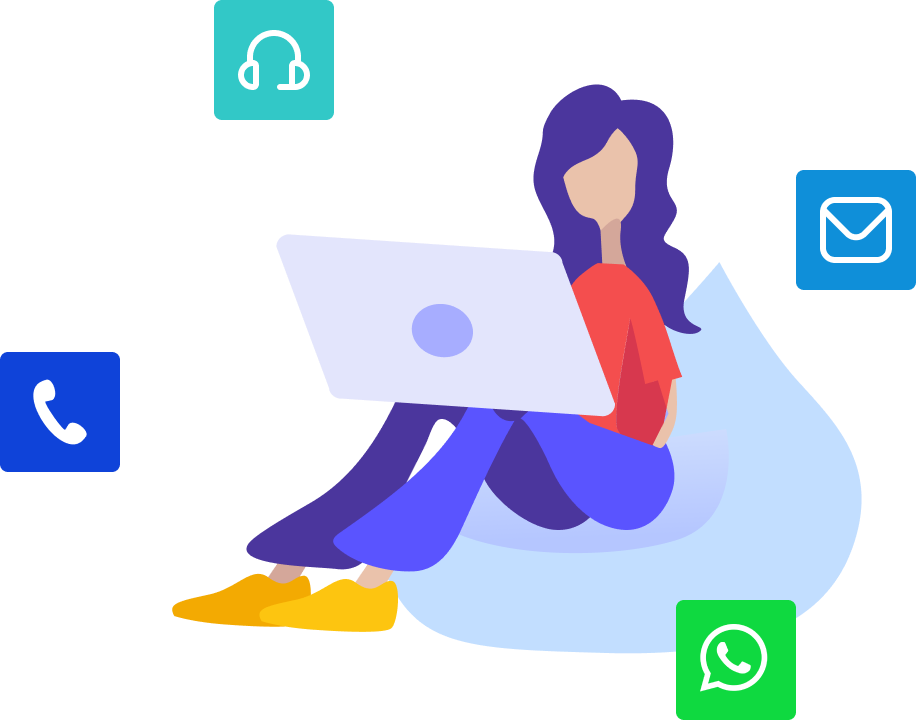 Overview of your Business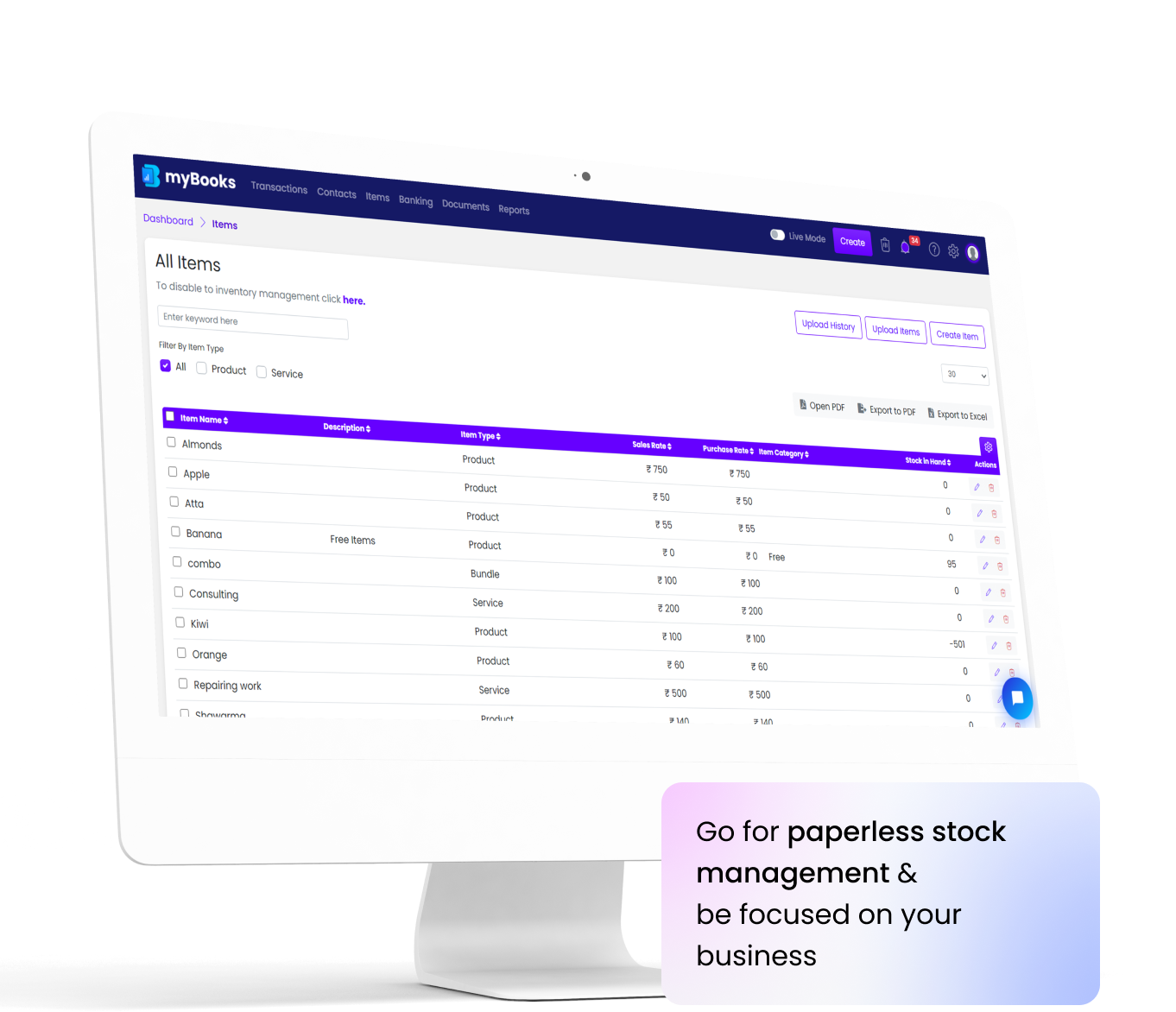 Our cloud accounting software will make your inventory management to the next level with awesome features.
Overseas Transactions with myBooks
Multi-Currency Transaction
Are you a business owner, involved in import and export? myBooks support multiple currencies with real time exchange rates. So, you can add multiple currencies as per your needs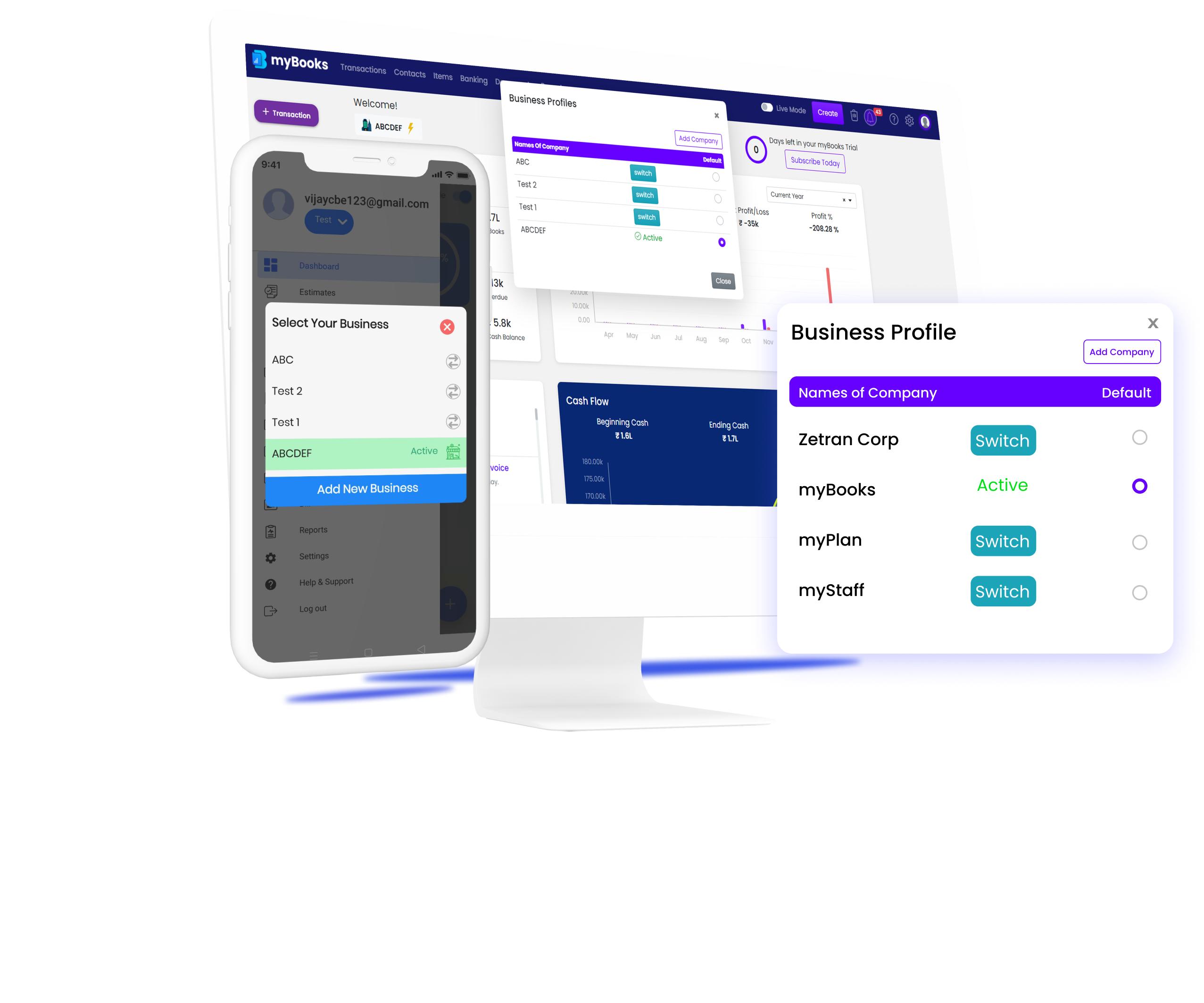 Be a Superintend with myBooks
Multi-Business
Management
myBooks allows you to handle different
business accounts under one ID.
Custom Access with myBooks
myBooks comes with user role management system that defines what a specific user can and cannot do based on their roles. No need to share your credentials anymore!!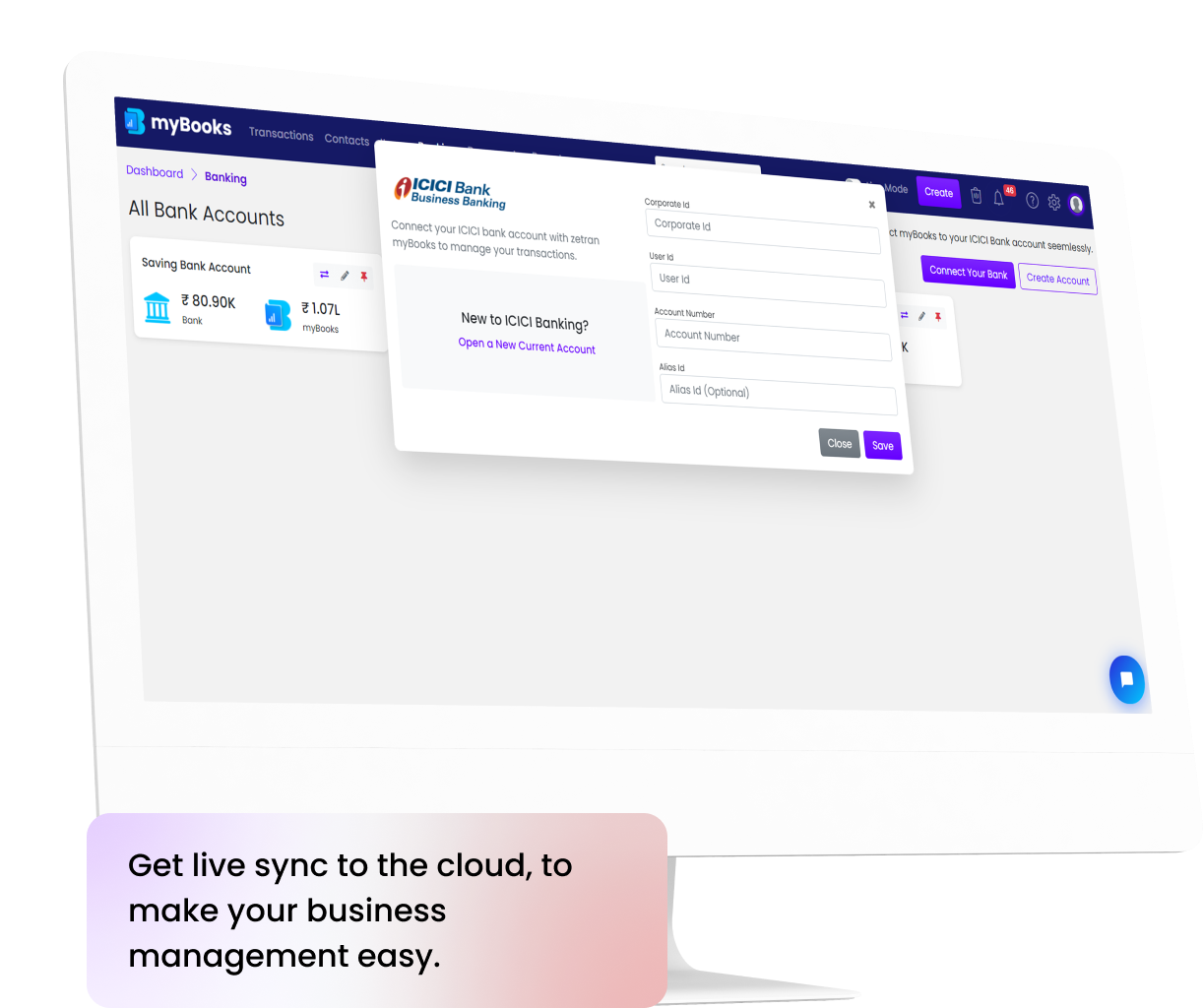 We fetch your Bank transactions automatically into myBooks which saves your time.
End of the day financial reports play a vital role in decision making. myBooks online accounting software provides all-important reports for management.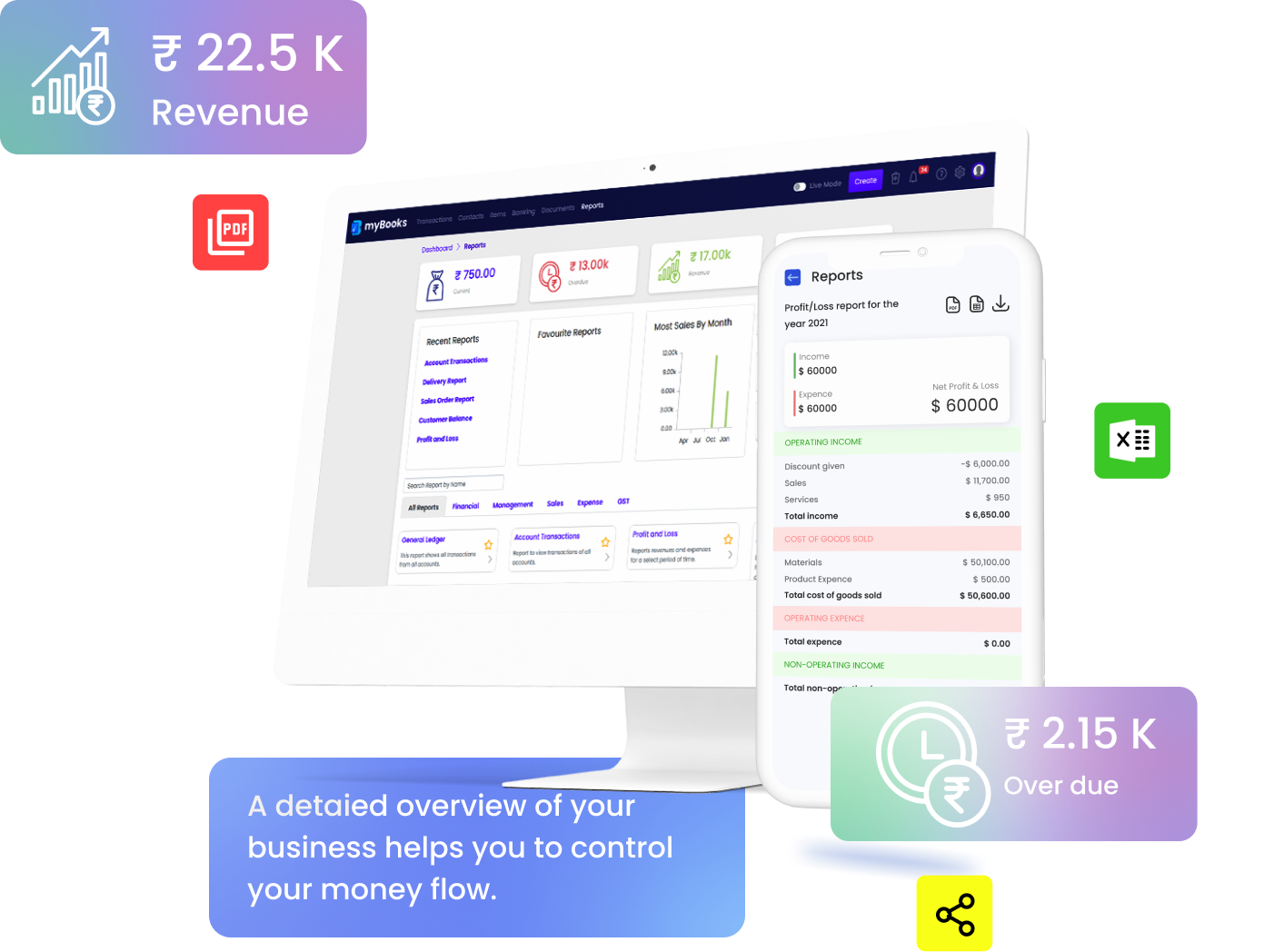 We are committed to protect and secure our customer's information and our systems by using advanced technology that provides a high grade of security to your data.

We Use Bank-Grade Security
Manage your business accounting
in a Smarter Way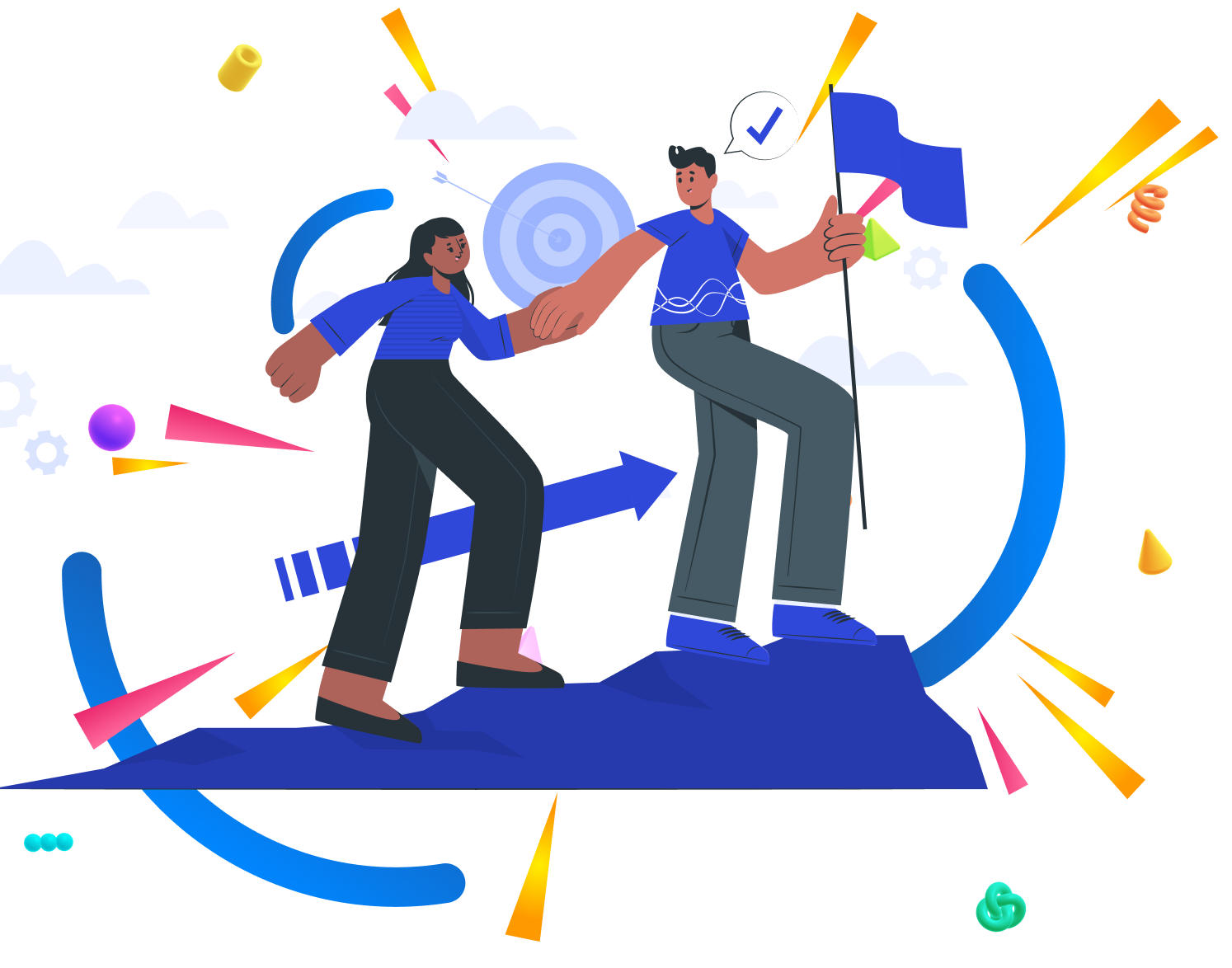 Come in! we're open! For small business motivation! We're all in this together! we know how businesses are affected by COVID Pandemic. We got you an attractive offer. Grab the best offer! Made just for you!
Live, Work and Create

Our website is an SSL-certified website! So we keep your online transactions and all your information more secure and private.

We made our software with data encryption. You need not worry about your data. Even if the hacker gains your information, they can't understand your data.

We included access control for our program! It helps you to grant quick access to your authorized persons and restrict all unauthorized people to log in to your software.

We update our software regularly to restrict your desktop/smartphone/tab threatened by new viruses. Additionally, we use the latest program to avoid threatening viruses.
Our secured cloud service will safeguard your information from hackers. It prevents your information from theft, data loss, or data leakage.
For customer benefits, we included an attachment scanner! It helps to avoid all threatened viruses and other malware files while the user uploads any attachments.
Best Alternative to Vyapar App
mybooks accounting software, the best Vyapar alternative for free. mybooks is the best accounting solution for entrepreneurs, accountants, small IT & financial companies, and freelancers. 
Accounting for Your Business
Vyapar accounting software has limited features. If you are a business person searching for a vyapar alternative for free for your web accounting, then your search ends here with mybooks. mybooks is similar to the Vyapar app, but by making accounting more simple and affordable for small businesses. The mybooks software acts as the best alternative to vyapar online, with a user-friendly UI and sufficient business reports.
Vyapar app is a standalone software solution and hence, problematic to integrate with other systems. Contrarily, personalized software systems are a breeze to integrate with various external systems providing you hassle-free business management experience and higher productivity. myBooks outperforms vyapar on the security parameter as well.The online version of vyapar is more vulnerable to attacks and outages that cost you in time, money and credibility. myBooks, on the other hand, comes with enterprise-grade security, making it the best alternative to vyapar online.
In case you are too addicted to the easy user experience that defines vyapar, we keep you covered here too. Multi-currency transactions, convenient configuration, and setup, simplified invoicing, auto bank feeds and attachment uploads, myBooks replicate every functionality but with a higher degree of personalization, giving you enterprise grade power. Since accountancy has gone beyond bookkeeping to be the cornerstone of day-to-day decision making, we help your cause with an analytical dashboard. It features key accounting insights that help in strategising, resource allocation and other critical decisions that determine growth for you.
When using vyapar or FreshBooks, a lacklustre, impersonal support may have left you upset and disgruntled many times. As a Vyapar online alternative, we avoid technical glitches or operational issues. We have the best supporting team to support clients 24/7. Similar to Vyapar app, mybooks delight users at an affordable price. Just skip the pricey upgrades that vyapars and FreshBooks charge to one modest monthly payment and you are sorted. They don't call us the perfect FreshBooks alternative for nothing. That's not all! myBooks comes in three variants, including an ABSOLUTELY FREE one. So your search for free vyapars alternative for small business ends with myBooks.
I am the owner of BD Engineering. I am using myBooks for more than a year, and the software suits my manufacturing business a lot. I am not an accountant, but I can use this software easily without facing difficulties.
I am holding Water Junction Private Limited company. myBooks was suggested by my colleague. The invoicing and their templates are satisfactory. I found the support team is really good and I benefit more from them. They have a good response time. It's beneficial to have the software.
I run a business based on the "Agriculture and Farming" industry. My company is Sanki Poultries. This application is really worth buying and affordable for small businessers. I don't see any difficulty in using the app.
I am maintaining a manufacturing company - Suzter. I decided to start using myBooks just to trial the software. But after using myBooks software, I feel it made my technology business so cool and effortless. Thanks for the app.
No credit card required / Billed annually
No credit card required / Billed annually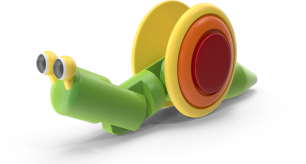 For most businesses that want to optimize web queries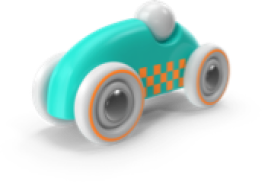 For most businesses that want to optimize web queries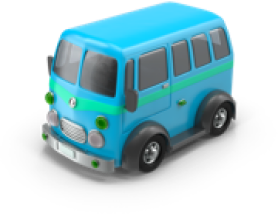 For most businesses that want to optimize web queries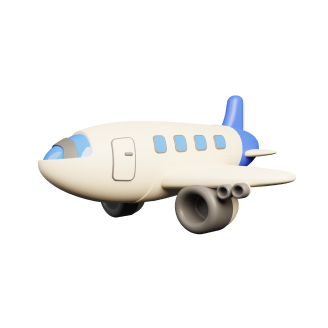 For most businesses that want to optimize web queries