Accounting Software Migration
Accounting software migration is not just an easy task! You should take your time for the process. In case of any delicate issue, it may affect your business to large extent.
Step by Step Accounting Software Migration Checklist
Finally, you concluded to change your accounting software! Right? It might be due to some inconvenience in your purchased accounting system. Or, maybe your purchased software no longer meets your needs and specifications. Let's explore the checklist without any delay
What is migration in accounting?
The migration of accounting is the process of shifting all your accounting information from one source of database schema to the destination database schema.
When should you change accounting software?
The best period to shift to another accounting software is generally the fiscal year-end. Make sure to plan for the correct transition phase to make the process smoother. Sometimes it takes several months. If you don't meet the exact checklist, it may lead to a hard time.
You might face more hazards for migrating, but once you complete the entire process, you feel relaxed as you shift to the right accounting software.
Is it easy to switch accounting software?
Exactly not! Switching your accounting system is not an easy task to go. If done so, it may affect your business. It requires lots of time and time phase to complete. Take the right phase and right decision to make it smoother.
How do you transfer from one accounting software to another?
Let's kick start the simple accounting software migration. Follow the below checklist for your accounting software migration.
Explore the accounting software migration checklist with an infographic
10 simple steps for easy accounting software migration | Checklist
As we discussed above, you are fixed in switching your accounting system! Additionally, you planned your right transition phase and the date to proceed further. Follow the mentioned steps to transfer to new accounting software.
Finalize your completion period
The first step to switching accounting software is finalizing your completion date. The completion date is nothing but the date you planned to drop your existing accounting software and kickstart your new accounting software. You may pick any of the dates to start your latest accounting system. But the good practice is to begin from the first day of your planned month by completing the bank reconciliation at the before month. 
It is necessary and your responsibility to keep your decision updated to your accountant regarding accounting software replacement. It just doesn't help your accountant, but also they may approach you to pick the right accounting software for your business.
More or less, it is significant to know about your chosen accounting software to your accountant, because they can able to expertise on the particle software to move further.   
Pick the one that fits your need
List all your business requirements. Take your accountant's support. Try to make use of the trial version as a whole. Check the features of your chosen accounting software. Monetize all the accounting features that they have. And finally, decide!
Your hardware and software compatibility
The accounting software you purchased is not your fulfilled path! It's just halfway. You are supposed to check whether your latest software is compatible with your existing hardware. If you don't see your existing hardware, flexible for your chosen software, you have to change or upgrade one of any! 
Keep in mind all the expensive software in the market is not good and satisfactory. There are lots of better software at an affordable price. Additionally, working very well in browsers and doesn't actually have any of the hardware requirements.
Make sure all your information is backed up. It is one of the significant reminders while you transfer your accounting software. Additionally, this is considered to be the basic point to keep in mind when you perform accounting software migration. This will let you avoid losing your important data during the transition.
Before migrating all your information from your old accounting software to your latest accounting software, run a trial balance, else create a balance sheet and save them. Performing in this way will help you to secure the details are added correctly by your preferred accounting software.
Define your quantifiable goals
What are quantifiable goals? It is one that regularly tracks all your business performance. Defining the qualifiable goals assists your business management during the process of business planning, implementation, and the software migration control phase.
It assists you in deciding the best data format for the before mentioned points. 
While you record information, different accounting software tends to support different kinds of data formats. Make sure your data format is stored in the recommended structure of your purchased accounting system, and all your saved data are error-free.
The best practice for accounting software transformation to avoid errors is to use accurate data mapping.
A test run is one of the checklists in the transformation accounting system. Check the software capability by test running the imported data. It will help you to estimate the errors and the capacity of your chosen software. 
Additionally, you can see the performance and compare both old and the latest accounting system's discrepancies.
Last but not least! The final step in switching the accounting software checklist is to train your users. Before executing the new accounting system, make sure to provide the required training period and testing time for your users. Offering the standard training for your users on your chosen latest accounting system helps you to avoid some of the glitches like inaccurate data entry and unwanted issues.
Download the Accounting Software Migration Checklist
Questions to ask when changing accounting software
Your accounting software impacts your business. When you pick an accounting system that doesn't match your business, you may face more consequences. As already you might be faced some difficulties with your old accounting system, it is more important to choose the right one as the latest.
Ask these questions to yourself while switching the accounting software
Here are the 11 questions to ask when you change and choose the latest accounting software system.
What's your previous accounting software difficulties?
List the pain points of your previous accounting software. Enquire your employees regarding the difficulties they face in the existing accounting system. Employees are the one who runs the report periodically. So they know the troubles in it. Check the improvement areas on your latest system. Make sure you are not compromised at any point while you pick the accounting system.
It is not that the expensive software is best in quality and error-free. Even free software available in the market is error-free. Make the right decision. Choose the accounting software that compensates for your budget. Estimate your reduced time and manpower as a result of switching. 
Does it contain all the features you expect?
It's time to pull your lists! Check out every feature they contain and compare what you need and what they have. If your switching accounting system meets your needs, congratulations!
In case, if you don't meet your requirements, don't let down or compromise, track until you pick the right one.
Do you pay for any additional features?
Some businessers pay for additional features for what they don't use. Be aware of what you use and what you pay. Check for other hidden charges if any. Overview and dive diver for all the options you have in the provided invoice/bill. 
Do all your data be secured?
This is the most important query to ask. Additionally, if you are moving to cloud-based accounting software, then this question is a must! Your data must be safe and secured undoubtedly. 
Here is the data security checklist for your accounting system. 
SSL Security

Data Encryption

Access Control

Regular Virus Scanner

Secure Cloud Service

Attachment Scanner
If you would go for the accounting software with the above security, then myBooks is your best option.
Do I pick my accounting software only with the other people's experience or suggestions?
Ask this question yourself! If your answer is yes, then think twice to buy. Pondering why? If you think then answer for their questions,
Do your industry matches the suggested person industry?

Do your income and the referred person's income matching?

Does both your accounting system requirement are same?
These are some of the notable important queries to clear before you make the decision.
Do they update the software frequently?
Upgrading the software is a sign of development. If you notice the software upgrades on regular basis, then no worries, it is software that sorts your issues and develops their best. If it is stagnant software, without any updation, then you should appeal and think twice to purchase. 
Here is the checklist to see whether they are doing any updation,
Check their blogs to notice the updation if any

Their archives

Roadmaps
What does the people review say?
Go through the third person's review sites. Check for play store, app store, etc. The negative commands are general! But what to check is, do they get those commands more often? The issues can be rectified if there is a regular software updation. Check for the responses that the software company replies to it. Do they respond to the client's difficulties? These are essential points to look at while choosing the accounting system. 
Do they offer the best customer support?
Most people will not like to stick to the software if they have the worst customer support. One factor to build the relation with the software company is customer support. Avoid the accounting system company if you don't feel good about the customer support.
 A good accounting software company will hire responsible and knowledgeable representatives to care for their customer services. Additionally, then respond to you most often if you are in trouble with your accounting system.
Do you and your users like the software?
The reason behind switching the accounting software is due to some faults and not user-friendly software. Don't make a similar mistake that you did before. Discuss with your employees thinking about the software. Don't give up or compromise. If so, then there is a chance to switch to another accounting system for the upcoming year. 
While you operate the software, ask every time whether I like the software or not! It might feel silly for people, but the clumsy layout and worst outlook will never make your business glow or grow.
Common mistakes to avoid while migrating accounting system
In this digital world, accounting software migration is made trendy. While businesses switch their accounting software for safe and secured cloud accounting, most business revenues tend to make a positive change.

Let's dive deeper into common mistakes to avoid while migrating the accounting system.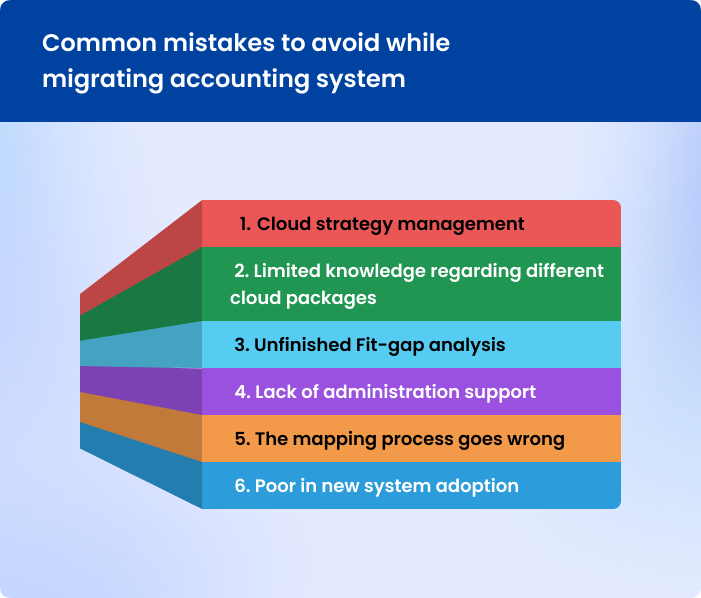 #1 Cloud strategy management
Cloud accounting is an essential factor for most businesses. Nowadays people only go for cloud accounting to make business safe and secure. As technology advances and digital transformation gets harder every business must migrate to the cloud. However, migration complexities are often tricky to deal with and may lead to disappointment and wasted expenses.

Cloud migrations difficulties occur due to problems in migration procedures. Be prepared with the proper migration strategy and clear disaster solutions as a precaution.

Having the right cloud strategy management and right cloud accounting software assists your business to a larger extend.
#2 Limited knowledge regarding different cloud packages
Most people think that all the cloud packages are similar! Do you? But it's wrong. Actually not! The cloud packages vary based on the cloud hosting service packages. There are so many factors while choosing the right cloud service provider. Lots of people failed in this action. So make sure to pick the right cloud package that makes your business effective if any.

It is better to pick the right cloud accounting software. You have lots of benefits in using cloud accounting software.
#3 Unfinished Fit-gap analysis
Before you make the decision of switching, people fail to look next. It is one of the common errors they make. They fail for these below questions.
How should your techniques look like in the future?
What's your company's operation, functionality, and other technical process does in the future?
Can your latest updation deliver those requirements?
But all these are done by fit-gap-analysis. Make complete documentation about the mentioned points without missing them.
#4 Lack of administration support
As we all know, switching accounting systems is not an easy process. It needs lots of experience. Companies fail in businesses due to a lack of administration support on accounting software and accounting system migration. Avoid those mistakes. If it happens, then you have to face the consequences.
#5 The mapping process goes wrong
As we discussed above, data mapping is one of the important factors for accounting system migration. Data mapping is almost the initial stage of switching. If that goes wrong, then all your processes will get collapsed. It is the most common mistake done by the businesses while switching accounting software from one accounting to another accounting software.
#6 Poor in new system adoption
Another misstep is not good expertise in the new system adoption. Have you felt this somewhere or at some point? If you change your accounting system frequently, then sometimes it looks like your changing your business operations.

Poor in new system adoption may sound simple, but it is the tedious part. If your employee feels difficult, the migration part becomes challenging and exists a risk in generating ROI.

To avoid common mistakes while migrating the accounting system, be aware, and make a document about all the points. It is better to create a checklist to move forward in the right and accurate direction.
Pros and cons of changing accounting software
Changing accounting software has benefited most businesses. Even coins have two sides. Similar to that accounting software switching has both advantages and disadvantages. Let's dive for it.
Benefits of Migrating Your Accounting Software
Here are the advantages of changing your accounting system. 
When you struggle for something, and finally you are relieved from it, it boosts your mind. It will encourage you to reach your goal easier without hesitation in your business.
The best accounting software with the right accounting management is a great combo. When you achieve this, then no worries! Your business empowerment is in your hand. None can stop your growth and profit.
You might find some extra features in the software than in existing. It guides you to reach the best ROI. The error-free accounting software will give you a great advantage for your business.
Risks of accounting software migration
Though you hope for the benefit while accounting software migration, there exist lots of risks in it. Here are the accounting system switching risks.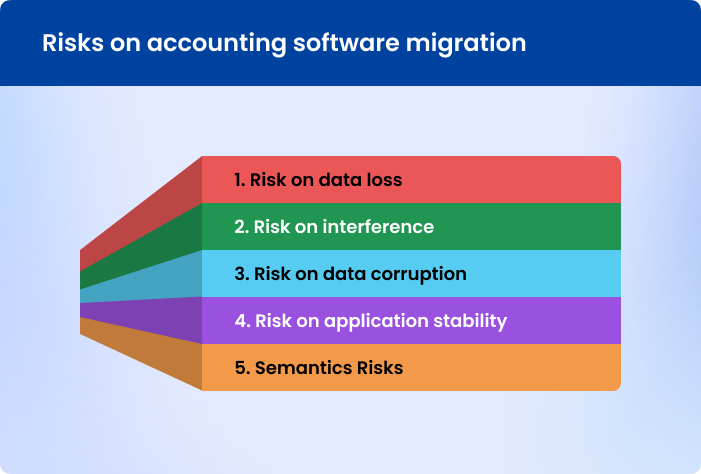 If you flunked to hire the right switching person, you may face some data loss. Additionally, during migration, there is a possibility to lose partial or some percent of data loss which leads you to conduct the migration test.
Interference risks are always problematic. It occurs while your collaborator uses the application simultaneously during the migration process.
#3 Risk on data corruption
When your organization works with the validation and others rules on the particular system, there is a possibility to occur for data corruption! Avoided data may switch to the latest accounting system, resulting in data corruption threats.
It is nothing but, you might have fixed some time for data accounting transition. But the migration process time takes much longer than your expectation. During the transition process, the origin system might not be in an active state and creates risk for both the shareholder and the organization.
#5 Risk on application stability
You might have chosen the application that contains lots of risk on migration due to poor app development, improper coding for either new software, or based on your business requirements. It creates dissatisfaction with your accounting system in the initial stage.
Even when you have successfully migrated your accounting system, sometimes there exists an issue called semantics risks. Let's take an instance, you have successfully shifted your data, but there is an error in the field "weekly average" i.e. the source data's C5 (Column 5) information incorrectly shifted to destinations data on C7 (Column 7). This leads to a major business disaster in some cases if you don't go for a data migration test.
Even when you have successfully migrated your accounting system, sometimes there exists an issue called semantics risks. Let's take an instance, you have successfully shifted your data, but there is an error in the field "weekly average" i.e. the source data's C5 (Column 5) information incorrectly shifted to destinations data on C7 (Column 7). This leads to a major business disaster in some cases if you don't go for a data migration test.