Software and product reviews make it rather easy today to spot customer dissatisfaction with your product and service and to rectify this through their feedback. In essence, software review sites help SME owners to connect with potential customers and to build trust. They operate by grouping software into business categories that you can browse through to identify the best applications for your business needs. Some of the software that the software review sites concern themselves with include online accounting software, business accounting software, small business accounting software, and free online accounting software.
Top Software Review Sites to Choose for your SME Software
Here is our selection of the top ten software review sites available.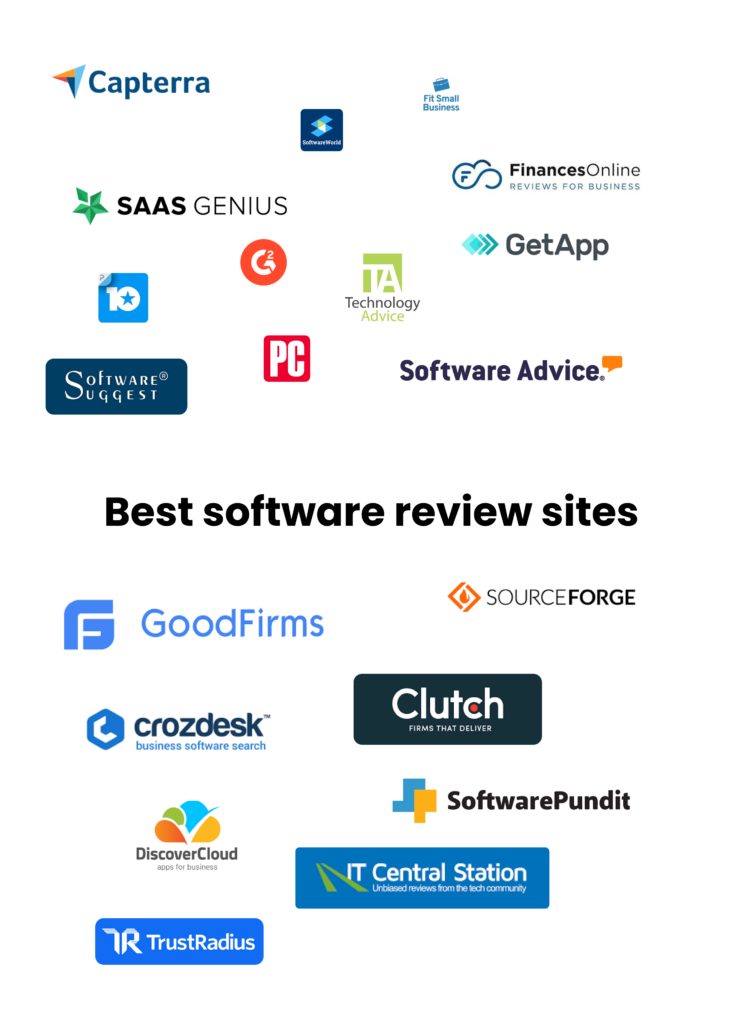 Capterra
Capterra is a popular review site that gives the buyer an insight into the trending software for the business. With 600+ categories and over 5 million reviews, the site provides a comprehensive recommendation from the array of trending software and products in the market. The site claims 100,000+ ratings and reviews of software in over 400 categories. myBooks, a QuickBooks alternative, is one of the most highly recommended small business accounting software on the site. Like many others, it is free online accounting software that aids small business growth.
Software Advice
It is a comprehensive and personalized platform that showcases honest and truthful reviews from the original users. It is one of the review sites that provides product comparison and provides opportunities for software vendors to come in sync with prospective buyers.
GetApp
The site focuses on profiling established business apps that target an audience of small and medium-sized businesses and business buyers from enterprise departments. GetApp is a place for small to medium-scale businesses to find the best business-related tools.
G2 Crowd
Business professionals, buyers, investors, and analysts use this site to compare and select the best software and services based on peer reviews and synthesized social data. The reviews are from authenticated and trusted consumers that will assist you in taking the best business decision.
PCMag Business Software Index
If you want truly unbiased opinions from software industry experts, this is the place to start. The site covers all types of IT management software, business software, project management, CRM, collaboration management, sales, purchase, employee management, and analytics management software along with its prices, features, and functionalities.
Top Ten Reviews
If you don't want complex searching and filtering and you value expert reviews over user reviews, then this site will give you a quick overview of your best options in nine software categories: Backup & Recovery, Education, Entertainment, Home, Internet, Multimedia, Privacy, Security, and Utilities. Within those, there are well over 100 Top Ten listings.
SoftwareWorld
Software World is another comprehensive business software review site that claims to bridge the software selection for your company. There are more than 150 categories listed on the site for a detailed review of the software based on functionality, support, quality, and usability.
Knowing which type of software would benefit your business the most is often difficult. But there are software review sites like Software World that can help you determine what's the best site for your company before you invest your money.
Software World is one of the best business software review site platforms that brings quality and trustworthy software and provides a collective review of what people think of it. When start-up companies or new businesses are evaluating their needs, they can get help from SoftwareWorld's review of software products.
FitSmallBusiness
FitSmallBusiness provides small businesses with the information they need to succeed. They conduct extensive research, including trying out products, talking to business owners, and interviewing industry experts. They review software geared towards small businesses in order to help the target audience find what they need to succeed.
Saas Genius
If you are looking for online software tools that you do not want to download, then you have that in Saas Genius. The site is a genius solution to evaluate trending software without the necessity of downloading them. You are welcomed with truthful feedback and insight into prices, features, functionality of the software as well.
Finances Online
Finances Online is a platform where the clients can find the software as well as the services on a single platform. The clients can find out everything about the service software and compare them with its counterparts. The customers are briefed about the prices, software size, functionality, and features.
SoftwareSuggest

 
SoftwareSuggest is a directory of software review sites that are equipped with an evaluation tool to help the users find the best software as per their requirements. The website will help you decide what software to buy, compare it with other software you have, and pay the right price for it. The review site SoftwareSuggest collects feedback from both users and experts to help people make the best choice in software.
GoodFirms
The software review listing firm GoodFirms provides authenticated reviews and studies of the most prevalent software trends. This firm has over 6000 software companies listed in its database.
Clutch
Clutch is one of the business-to-business software review sites that creates a company profile, has the company listed on the website, and enables millions of users to find software, consultants, and business services. It analyzes user reviews to determine the most accurate criteria for evaluating software successfully. It also offers direct communication between customers through its online platform.
SourceForge
SourceForge is one of the best software review websites. This is one of the top platforms to discover new software for businesses and for open-source opportunities. It is easy to discover your required software here. You can check for customer reviews, ratings, and the number of downloads in the present week easily. This helps the users to research and decide on their software without difficulties. 
TechnologyAdvice
Technology Advice is the best-suited platform for businessers are in need to connect with B2B software review websites. This platform is more trustworthy for advising, building a good relationship with buyers and sellers, and educating. Technology Advice shortlists and software are based on the product's features and the reviews of the customer, which helps the buyers to know more about the researching product. 
SoftwarePundit
Software Pundit is the only business software review site that checks and reviews the software with a hand test. Software Pundit will analyze each of the software and helps businesses to buy the right software as per their need, without any difficulties. Each and every business software recommendation are mentioned, only after the research and estimation. 
Crozdesk
Crozdesk is a thorough business software examination site, where businesses can find the right software with just a single click. If you are a business person who is in search of software comparison sites, then this platform is one of the best suits for your search. This platform helps you to compare more than 1000 software across more than 240 various varieties of categories.
IT Central Station
This platform offers assured tech feedback for different types of businessers. This platform is immediate and gives you dynamic analysis outcomes. The reviews on this website are verified by the site and the reviewer before it is published on the site. 
DiscoverCloud
If you are a businesser, who is in search of SaaS solutions software, then DiscoverCloud software will be your good choice. This platform also acts as a software comparison site, where you can compare software for different categories. It is a free platform to list the software.
TrustRadius
TrustReadius benefits both the buyers and the vendors. This website permits the business products to achieve momentum in due course with the help of orientation in the product market. With this, buyers can have better decision-making on purchasing software. 
This platform is equivalent to G2 Crowd. TrustRadius website reviewers are authenticated and provide thorough reviews and insights about each and every software which is listed on it.
FitSmallbusiness
This platform is considered one of the top software review platforms sites. Get accurate, in-depth ratings and comparisons of business solutions and services that can help improve any aspect of your business. Whether you are looking for a review of the best shopping cart software or an unbiased comparison of the top eCommerce hosting companies, Fit Small Business helps over 200,000 small businesses make better technology purchasing decisions every month.
Finally, The software review sites we have listed have a large array of small business accounting software and online accounting software many of which are free online accounting software.